SEATTLE, May 17th – Publisher tinyBuild and developers Cradle Games are proud to announce that the dark sci-fi action RPG Hellpoint will be making the leap to next-gen consoles (Xbox Series & PlayStation 5) on July 12th, accompanied by the chilling, thrilling new DLC adventure, Blue Sun.
For the first time outside of a high-end PC, players will be able to take in the sights and sounds of the cursed space station of Irid Novo in pin-sharp 4k, running at a silky smooth 60fps on Xbox Series and PlayStation 5. Loading times are also drastically decreased.
Launching alongside the next-gen update is the first DLC expansion for Hellpoint – Blue Sun – first announced in August 2021. In this new adventure, the Spawn will delve into strange, never-before-seen locations within Irid Novo, behold the influence of the cosmic gods and discover the true cause of the Merge cataclysm.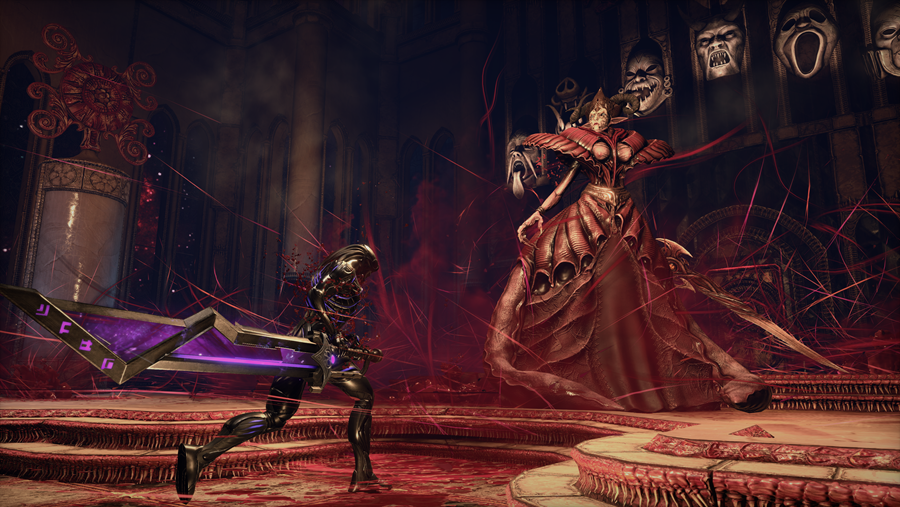 For the uninitiated, Hellpoint was the debut game by independent studio Cradle Games. Set in a surreal and dark science-fantasy future, mankind and aliens alike seek to harness the power of the soul, and to wrest power away from the cosmic gods of old.
Something strange has happened aboard the colossal space station Irid Novo. The black hole it orbits seemingly grows hungrier by the day, and mad cultists and void-spawned demons stalk the halls. The station's AI has created you—a 3D-printed agent—to investigate.
Featuring intense hack n' slash action combat solo or in co-op (split-screen or online), Hellpoint plunges players into a twisted universe where the line between magic and technology has blurred to nothingness. Players will arm themselves with blades, rifles and more esoteric weapons, and face off against ancient cosmic deities in their quest to unravel the station's dark truths. 
About Hellpoint:
Souls-like gameplay in a unique setting: Explore the derelict space station of Irid Novo and face bizarre enemies with a tight and unforgiving combat system.
Occult space story: Blending science and fantasy, the intensely atmospheric dark sci-fi setting will keep you searching for answers.
Dynamic World: The Quantic System acts as a dungeon master, slightly transforming the game world every time you die and triggering events as the station revolves around the black hole.
Jump-in co-op and PvP multiplayer: Hellpoint offers a full, uninterrupted online co-op story experience with shared loot drops.
About tinyBuild
tinyBuild is a Seattle-based indie label behind the Hello Neighbor franchise and over 30 other renowned titles, including Graveyard Keeper, SpeedRunners, and Party Hard. With additional development offices in Amsterdam, Netherlands, and Riga, Latvia and Boise, Idaho, tinyBuild is rapidly building a portfolio of fun, high-quality games across multiple platforms.
About Cradle Games
Cradle Games is a video game development studio specialized in next-gen action games for PC and consoles and based in Quebec City, Canada. The company was founded in 2015 by industry veterans Mathieu Boudreau (Creative Director) and Marc-André Jutras (Technical Director). Cradle's team members worked on series like Assassin's Creed, Call of Duty, Spider-Man, Prince of Persia, Skylanders, Rainbow Six, TMNT, and more.