Every Purchase of APICO Supports Beekeeping and Bee Conservation Efforts Around the World
Erie, Pennsylvania (May 12, 2022) — Today, Whitethorn Games — publisher of indie hits such as Wytchwood, Lake, and Princess Farmer — alongside developer TNgineers, are buzzing with excitement to announce that their laidback, beekeeping sim game, APICO, will bee swarming onto PC on May 20, 2022. The release coincides with World Bee Day in order to promote the critically important message of bee conservation. A portion of APICO's sales will bee donated towards national and international bee, beekeeping, and wild bee conservation charities.
TNgineers, made up of brothers Ell and Jamie, were inspired by their love of old Minecraft mods, casual, and crafting games to work on their own projects. They wanted to create something relaxing, intriguing, and semi-educational, which is why the beekeeping in APICO is based on real-life apiculture (the technical term for beekeeping) and floriculture (the cultivation of flowers) methods. Accompanied by the music of extremely talented composer Mothense, budding beekeepers will breed, collect, and conserve bees in a series of lush environments animated in beautiful sprite art.
"What Ell and Jamie have done with APICO is simply amazing," said Dr. Matthew White, CEO of Whitethorn Games. "Not only have they created a wonderfully realized and highly engaging simulation of beekeeping, but they've done so in a way that uses the positive power of gaming to deliver a vital environmental message. And we're bee-yond happy to welcome it into our catalog of games at Whitethorn."
"We've always wanted to create games, so it's so surreal for us to not only finish our own game and have it released into the world, but also have it get picked up by Whitethorn!" said Ell, Co-founder of TNgineers. "APICO has beecome far more than we ever imagined it would bee, and we're incredibly proud of it. We hope APICO inspires people to save the bees, real and virtual."
In APICO, players will leave their pointless, soulless, meaningless corporate jobs and non-stop exhausting big-city lives behind to return to their family home in Port APICO and get back to what really matters: bee-ing the best beekeeper they can bee. Combining resource gathering, biology, and minigames with ideas from both real-life and fantasy beekeeping and gardening, APICO will teach players about the ins-and-outs of maintaining a healthy hive and the importance of our irreplaceable pollinating pals.
The islands of APICO were once abuzz with different species of bees. It's up to players to rediscover lost species, cross-breed new ones, and repopulate each unique bee-ome. Progressing further into the game may also uncover some forgotten secrets. But that's none of our beeswax.
Key Features of APICO include:
Breaking into Hives: It's not as bad as it sounds! Collect materials, craft tools, and play fun beekeeping minigames to help rehome bees before releasing them back into the wild.

It Takes a Colony: Breed, collect, and conserve over 30 species of bees, like the Common Bee, the Forest Bee, and the Verge Bee. They're all Queens in our book.

Bee2C Marketing: Fund the family business by making and selling honey, Apicola, and other beekeeping products. Enjoy those sweet, sweet profits!

Cross-Pollination: Cross play with up to four players, regardless of where you purchase the game. Bees who work together, stay together!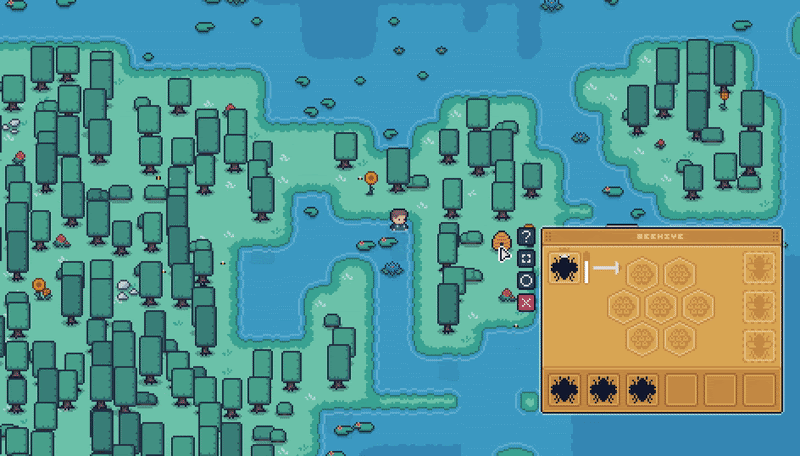 APICO will release on PC via Steam, itch.io, GameJolt, the Epic Games Store, and Humble Store on May 20, 2022, with a simultaneous console release following soon after.
To learn more about how APICO and TNgineers are supporting bee conservation efforts, and how you can help out, visit http://apico.buzz/savethebees/.
To keep up with all things APICO, bee sure to follow the game on Twitter, Twitch, Ko-Fi, and Guilded, join the hive on Discord, and visit the official website. 
About Whitethorn Games
We're an indie game publisher focusing on pleasant, cozy games that can be played in pieces, that require no special skills or knowledge, and that anyone can pick up and play. We're believers in accessibility, inclusion, and widening the audience that gets to play. We like to consider ourselves the defenders of easy games. While our games might challenge you, they'll respect your time, they'll make sure you can play, and most importantly, they'll never punish you. Learn more at https://whitethorngames.com/.
About TNgineers
TNgineers was formed in 2020 when brothers Ell and Jamie decided to develop their own projects based on their love of casual and crafting games. Their goal is to design games that are relaxing, intriguing, and semi-educational. Ell builds nice things, and Jamie makes sure he breaks them. Learn more about TNgineers and their first game APICO, by visiting https://apico.buzz.